Children's Dentist in North York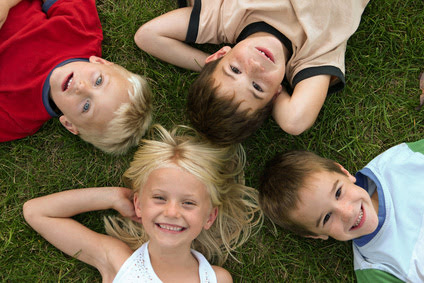 If you are under the misconception that a child's primary or 'baby teeth' are unimportant because they are "just going to fall out anyway", it's time to change your belief!
Primary teeth hold an important place in a child's development into adulthood ...literally!
In addition to chewing, primary teeth are integral as place holders and spacers for adult teeth. They are important in speech development, oral and physical health, and let's not forget self-confidence. Ensuring that primary teeth erupt around a normal and healthy development schedule is important for developing a healthy adult mouth and a beautiful smile.
North York's Dentist, Dr. Babatsikos & his caring team recognize the importance of oral health from the earliest of ages. Children's dental needs are of particular significance, as they define how a child's oral health will evolve through adulthood.
To recognize potential problems and focus on prevention, we recommend that you bring your child to see us as soon as their new teeth are starting to erupt, usually around their first birthday.
As your child reaches the age of three, they will likely have their primary teeth, twenty in total. Their permanent teeth will soon follow, making regular dental visits extremely important.
At our practice your child's comfort is a priority. Years of experience with children in a dental environment has helped us to create a smooth and relaxed dental experience. An early introduction to the dental office will help to ease future anxiety, as well as promote the best smile your child can have, one tooth at a time!
More About Primary Teeth
Primary teeth (also called baby teeth, milk teeth, deciduous teeth and even temporary teeth) are essential in the development of a child's mouth.
While they are in place and being used to chew, primary teeth allow the jawbone and muscles to develop properly. They are essential for proper eating and digestion as well as aiding in sound and speech development.
Primary teeth act as spacers and placeholders in a child's mouth during its growth and development, followed by their role as a guide for the proper spacing of permanent teeth once they are ready to erupt.
Let's not overlook the importance of primary teeth in a child's self-confidence and self-esteem during these important years.
At Lawrence West Dental we recognize the overall significance of healthy beautiful primary teeth and would be pleased to help you understand any aspect of your child's oral health and development.
Caring for Your Child's Young Teeth
Up to one-one and a half years of age, clean you child's teeth with a warm damp cloth after each feeding. Liquids such as formula, milk and juices contain sugars which can pool against teeth and gums. Bacteria in turn feeds on these sugars leaving acidic plaque behind. This can result in decay often referred to as 'baby bottle decay'.
If your child drinks these types of liquids avoid leaving them with the bottle for prolonged periods and be sure to clean their teeth throughout the day.
If your child takes a bottle to bed ensure that it is filled with water only and remember to wash their teeth and gums in the morning regardless.
Your Child's First Visit to Our Office
We are often asked; when should a child be brought in for their first dental visit?
As soon as you're comfortable bringing your child by the office, we'd really like to meet them, we love children and it is often a welcome distraction.
Dentally speaking though, you should bring them in for us to have a look at around their first birthday. Many of their primary teeth will have erupted and we should have a look and ensure everything is as it should be.
These early visits are also great for getting your child comfortable with the sights and sounds of our office. At this stage we can start to monitor their oral development and address any concerns that you may have. We can determine your child's fluoride needs and proper diet for oral and physical health. We can also help you select an appropriate toothpaste, tooth brush and demonstrate their proper use.
Toddler's Teeth - Between Ages 2 and 6
All of your child's primary teeth should be in place and your child may be interested in caring for their teeth. Depending on the interest level and fine motor abilities allow them to participate. Remember that caring for their teeth is critical for their development and you must still ensure that it is done properly.
During this age range you can begin to teach them proper brushing habits. Please ask us if you have any questions or would like us to offer yourself and your child a demonstration on proper technique.
Equally important is the amount and type of tooth paste you choose to use. While some fluoride is helpful for healthy well coloured adult teeth, too much fluoride can lead to a condition known as flourosis. Only a pea sized' amount is needed and try to teach your child not to swallow the toothpaste.
During this age range you should discourage a thumb sucking habit if they have one as it can lead to future oral problems. Remember to bring your child in for regular visits and cleanings to ensure they are comfortable and that their oral development is healthy. This stage of your child's development often allows us to foresee future problems before they become serious.
Children's Teeth Between Ages 6 and 12
It's time to pass on the torch!
Until now you've been brushing and caring for your child's teeth, it's time to ensuring that they've been paying attention. You should still supervise their brushings, but let them take charge of two of the daily brushings. It is a good idea if you perform or at least supervise one daily brushing particularly before bedtime until around the age of seven.
At around six years of age you should add flossing into your child's oral hygiene regimen. Their fine motor skill should be at the necessary level and they should be able to pick up this new skill fairly quickly. It will likely still be your responsibility to ensure it is done properly until the age of eight or nine.
You've probably been told about sealants by the time they reach this age. A fissure sealant is a dental product we use to fill fissures (deep crevasse especially in the back and hard to reach teeth). Sealants are a plastic coating that allows us to prevent tooth decay from occurring on your child's chewing surfaces. We will suggest sealants if we feel that they will benefit your child.
Adolescent Teeth
By now you have done your part and laid the foundation for your child's adulthood oral health.
With regular dental visits and everything you've taught them, your child should be on their way to a healthy adult smile.
Remember to keep on them about proper diet, oral hygiene and habits (such as not smoking, nail biting etc), and ensure they visit us at least once every six months for a cleaning and checkup.
If your child is involved in a contact sport you should speak to us about proper precautions including a professionally fitted mouth guard. Many injuries can be avoided or made less severe by the protection provided by a mouthguard.
Depending on their development, activities and habits they may need orthodontics or other dental treatments, but we'll make sure they receive the care they need to smile with confidence throughout their life.
If you have any questions regarding your child's oral health and development please don't hesitate to ask your North York Dental Team on your next visit or give us a call today.