December 2013: Tips, eNews & More!

It's that time of year again...

The holidays are here!

As this year comes to a close, and we eagerly anticipate what 2014 will bring, we would like to take this opportunity to say "Thank You" to you, our valued patients. 2013 was a great year for us, and we hope it was a great one for you too.

And don't forget, your dental benefits may reset at the end of the year, so be sure to request a final appointment to avoid missing out on any benefits.


Our office will be closed beginning December 24th, and we will be back in to service your dental needs on January 6th.

Our 2014 Desktop Calendars have arrived! Don't forget to stop by the office to pick up your complimentary calendar while supplies last!

Wishing you all the best this holiday season,

Dr. Nick Babatsikos and Team
---
Taking Good Care of Your Teeth during the Holidays

Whether it's Christmas, Hanukkah or Kwanzaa, chances are good you'll be indulging yet again with hard and/or sticky candies, cookies, desserts, pies, chocolate, coffee, tea, wine, and many other foods and beverages that can discolor or endanger your teeth. Before you know it, New Year's Day is here, and you have a toothache only your dentist can fix. Instead, be sure you care for your teeth and you can avoid that trip to the dentist.

All these indulgences make it that much more important that you take care of your teeth during the holiday season. Avoiding as many sugary treats as possible will help not only your oral health but also your waistline. When you do indulge, be sure to brush afterwards to remove the sticky, sugary residue that attracts bacteria and leads to tooth decay. Try also to avoid excessive quantities of coffee, tea, and red wine, which can discolor the tooth surfaces. By avoiding foods and beverages that can harm your teeth, you can be sure you'll enter the New Year with a bright, healthy smile.

Keep your teeth in top shape after the holidays by scheduling an appointment at 416-785-8586
---
Office News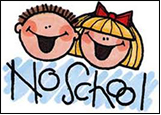 PA DAY Appointments Available

Don't forget, December 20th is a PA day for both elementary and high school students. The next PA day is Friday, Jan 24, 2014 for all TDSB and TCDSB elementary students.
Contact our office to schedule your kids in for their dental visit. Book early to avoid the rush!
The holidays are fast approaching...Professional Whitening Kits are a great stocking stuffer that will keep your loved ones smiling all year long.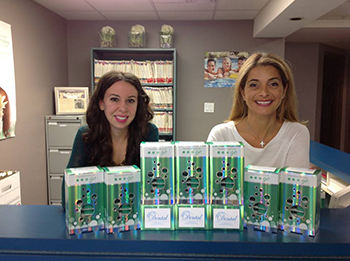 Drop by and pick yours up today!
---
Review our Office for a Chance to Win Gift Certificates to Yorkdale Mall!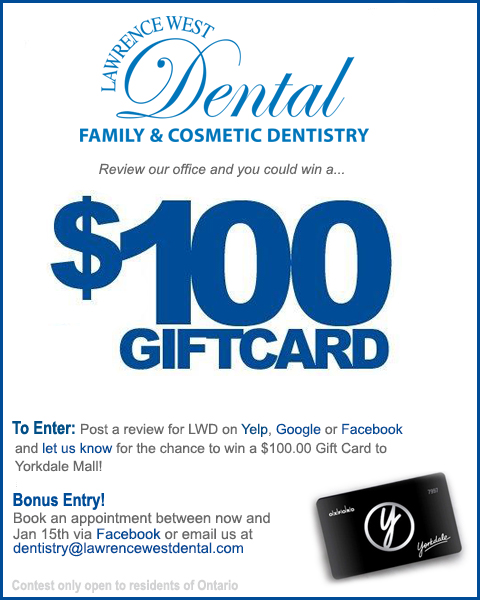 Post your review on Google, Yelp or Facebook and let us know for the chance to win a $100 Gift Card to Yorkdale Malll...just in time for the shopping season!

Bonus Entry: Book an appointment between now and Jan 15th via Facebook or email us at dentistry@lawrencewestdental.com.

Contest is now extended until Jan 15th, 2014.
---
How to Prevent Periodontal Disease



We are told from an early age that daily brushing and flossing is important, but why? Having a daily regimen helps combat oral health issues like periodontal disease. Infrequent oral hygiene and improper brushing can exacerbate these issues, making it easy for gum infection to occur.

What is Periodontal Disease?

Periodontal disease is caused by the same strain of bacterial infection commonly associated with plaque. Once there is plaque on your teeth or gums, it can potentially harden into tartar, further contributing to tooth decay by attacking below the gum line.

Causes of Periodontal Disease

Lack of daily brushing and flossing
Incorrect brushing technique
Smoking or tobacco use
Poorly-controlled genetics
Lack of routine checkups or professional cleanings
If you'd like to know more about how you can prevent gum disease, click here.
---
Money Matters
Did you know that the Toronto Land Transfer Tax forces home buyers of an average Toronto detached home to pay about $12,000 extra, on top of the provincial land transfer tax? Other municipalities are considering implementing local land transfer taxes and they are watching what happens in Toronto.

Bottom line - home buyers in Toronto are being over taxed and Toronto City Hall has collected over $300 million MORE than budgeted from the Land Transfer Tax since it took effect. It is critically important that they hear from as many people as possible to convince them to move forward with phasing out the Land Transfer Tax.

Wishing you all the best for the Holiday Season and a prosperous New Year!

---
Rustic Chocolate Chunk Banana Loaf
Looking for a delicious treat to enjoy after your holiday feast? This recipe for Chocolate Banana Loaf is just what the dentist ordered! It's quick, relatively simple and super yummy!

This recipe is flexible. You can use melted butter instead of coconut oil or blueberries instead of chocolate. Either way, it'll be delicious!

Click here for the full recipe!


---
Share This:




Lawrence West Dental and the Columbus Centre Athletic Club share the common belief that the overall good health of our community is of utmost importance.

LWD is proud to announce the Corporate Discount Partnership with the Columbus Centre Athletic Club. For more info, please contact us.
---
1141 Lawrence Avenue West Toronto, Ontario - Dr. Nick Babatsikos
Lawrence West Dental © 2012 : Our Policies